24 Hours of Reality:
Resource kit

Key Details:

Hashtag: #TruthIntoAction
Date: November 20 – 21
Website: https://www.24hoursofreality.org/
Description:

You've seen the headlines. You know the climate crisis is devastating the Earth. You want to know what we can do. What you can do. You're not alone – and we think it's time for answers. So, on November 20–21, we're presenting 24 Hours of Reality: Truth in Action, a global conversation on the truth of the climate crisis and how we solve it. For one full day, Climate Reality Leader volunteers trained by former Vice President Al Gore will hold public presentations and conversations on our changing climate in schools, community centers, workplaces, and more across all 50 US states and countries worldwide. It's a chance for friends, neighbors, and colleagues to hear the truth of what's happening to our planet. A chance to learn how we'll overcome this existential threat together. A chance to turn truth into real action and bold solutions. Now, while we still have time.
Ways to Get Involved:

Below are a few ways to get involved and spread the word about 24 Hours of Reality: Truth in Action. Make sure to follow Climate Reality on Facebook, Twitter, and Instagram for updates!
Request a presentation from a trained Climate Reality Leader in your community
Spread the word on social media using the provided posts and graphics below!
Spread the Word: Facebook

1. The climate crisis that is devastating the Earth is everyone's business, but what can we do about it? Join @ClimateReality for 24 Hours of Reality: Truth in Action – a global climate conversation. To find out more, go to: 24hoursofreality.org #TruthIntoAction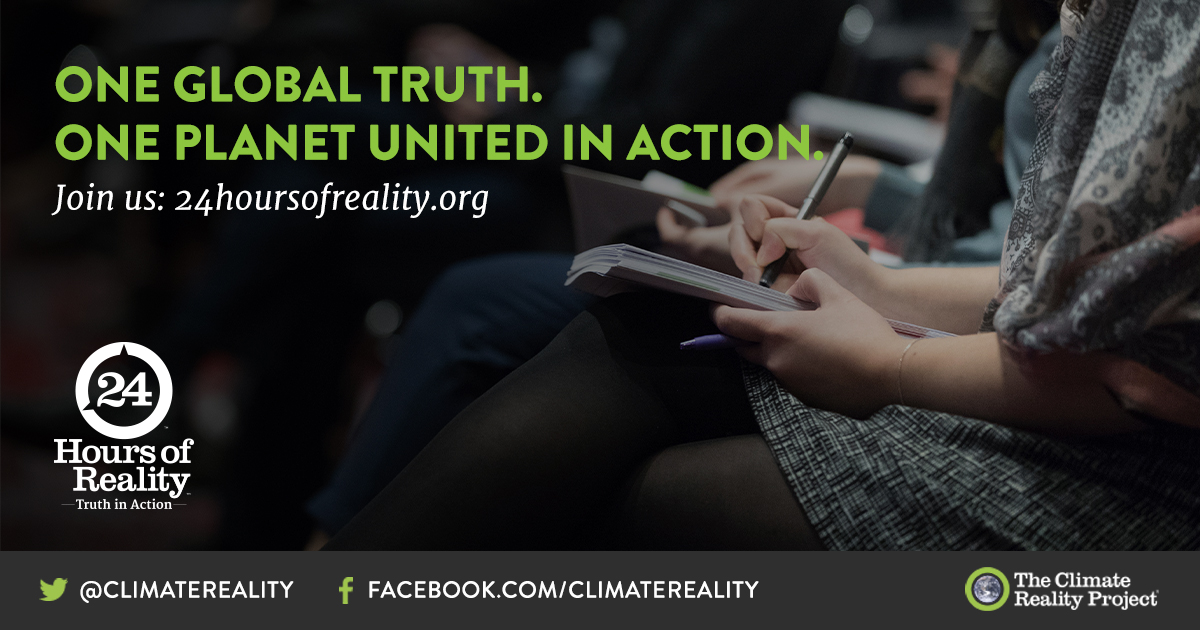 2. On November 20-21, the world is coming together to talk about the climate crisis with @ClimateReality's 24 Hours of Reality: Truth in Action. Find out about what the crisis means for you – and what you can do about it today: 24hoursofreality.org #TruthIntoAction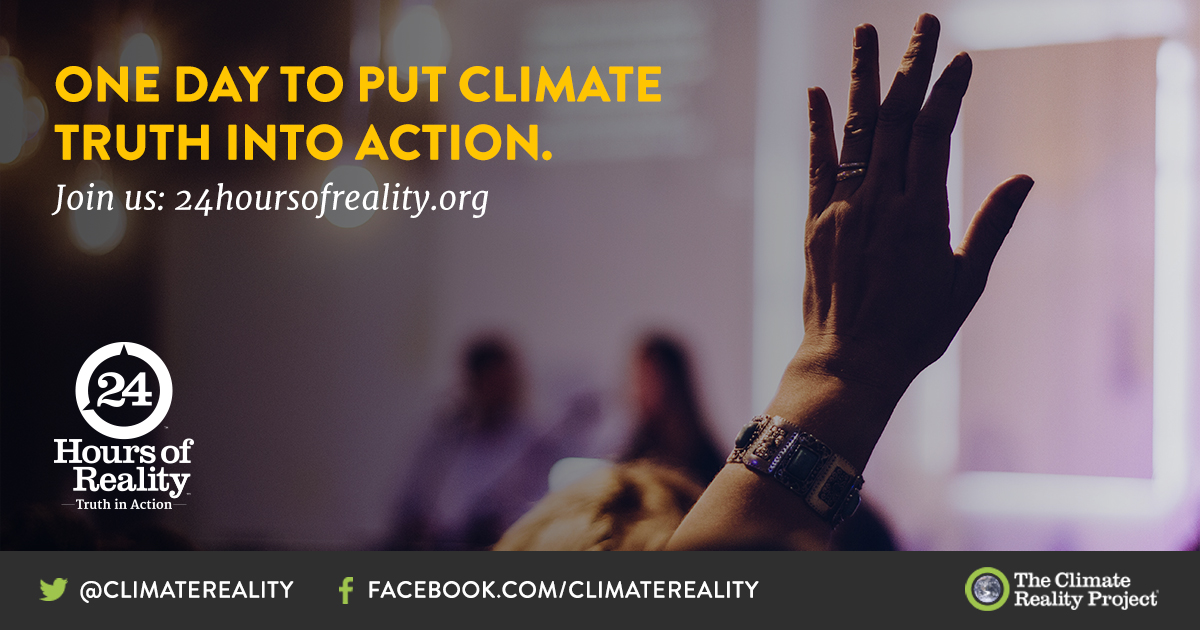 3. @ClimateReality is hosting 24 Hours of Reality: Truth in Action November 20-21. It's a chance for friends, neighbors, and colleagues to hear the truth of what's happening to our planet as well as the solutions available to us today. Find out more at 24hoursofreality.org #TruthIntoAction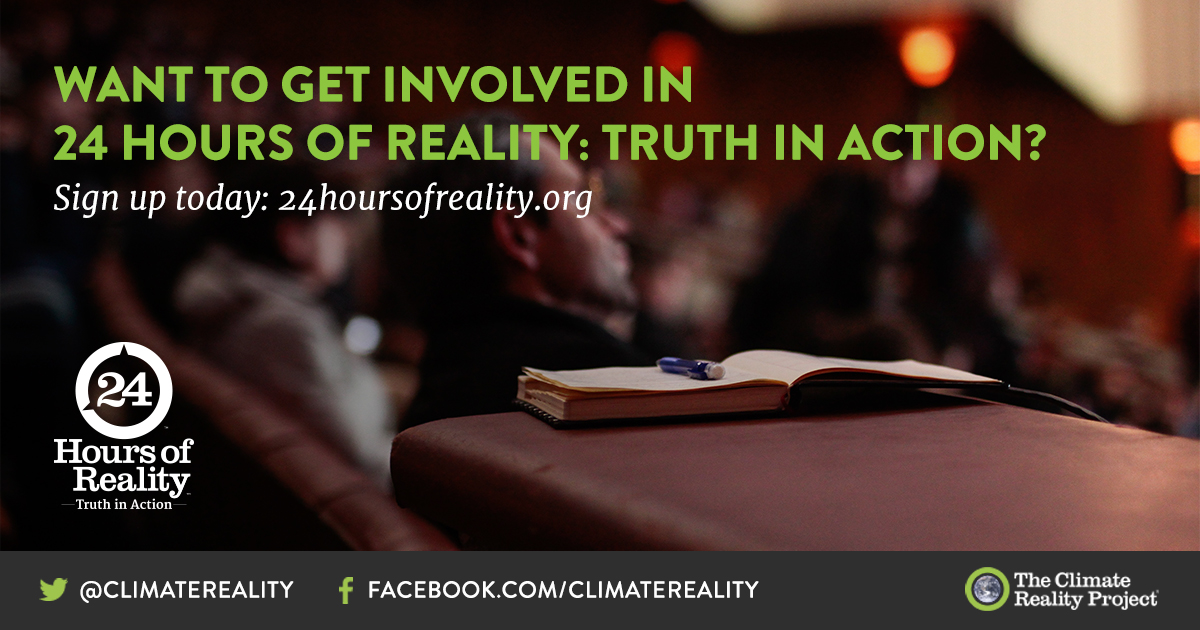 Spread the word on Twitter:

1. On November 20-21, the world is coming together to talk about the climate crisis with @ClimateReality's 24 Hours of Reality: Truth in Action. Find out what the crisis means for you and what you can do to fight back today: 24hoursofreality.org #TruthIntoAction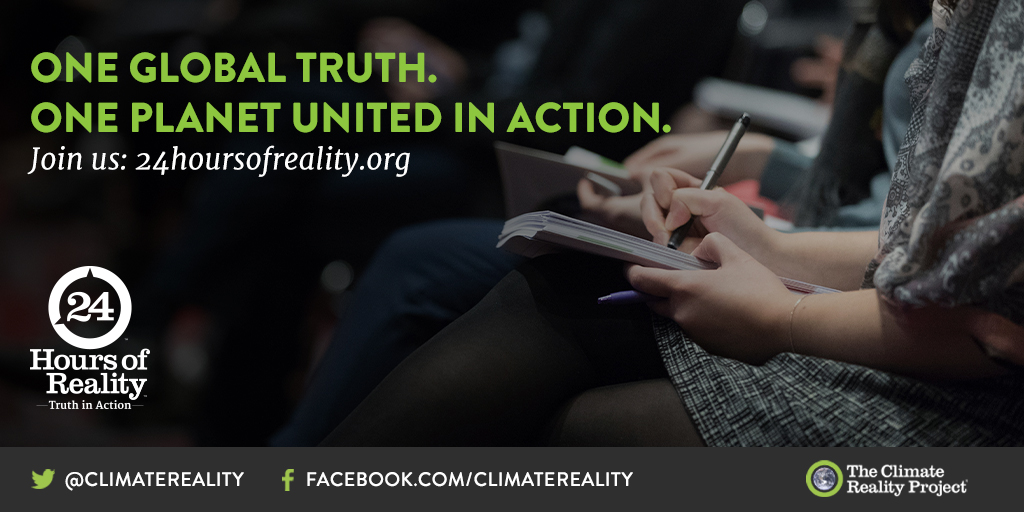 2. On Nov. 20-21, @ClimateReality is hosting 24 Hours of Reality: Truth in Action. It's a chance for friends, neighbors, and colleagues to hear the truth of what's happening to our planet. Find out more at 24hoursofreality.org #TruthIntoAction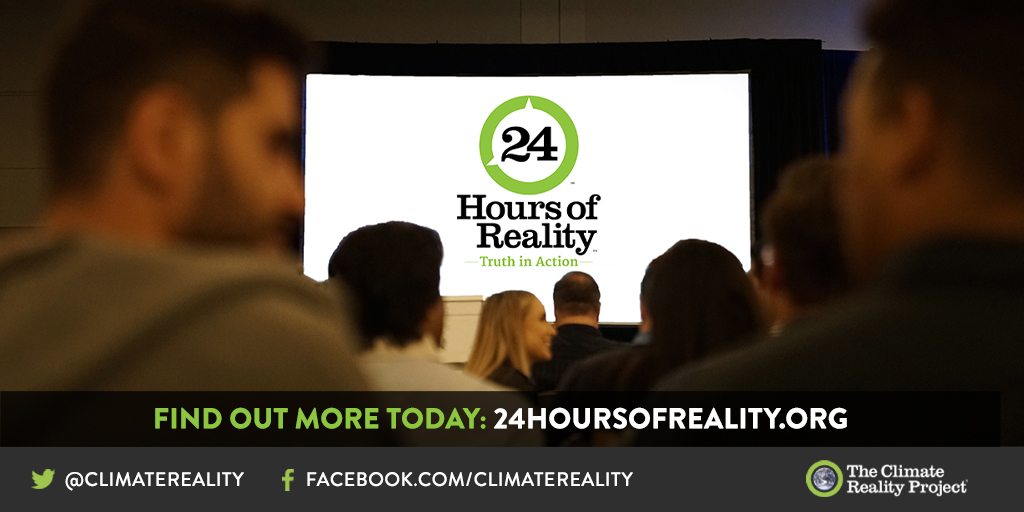 3. Bring your friends together for a special event this Nov. 20-21 by joining @ClimateReality for 24 Hours of Reality: Truth In Action. Be part of the movement for solutions by visiting 24hoursofreality.org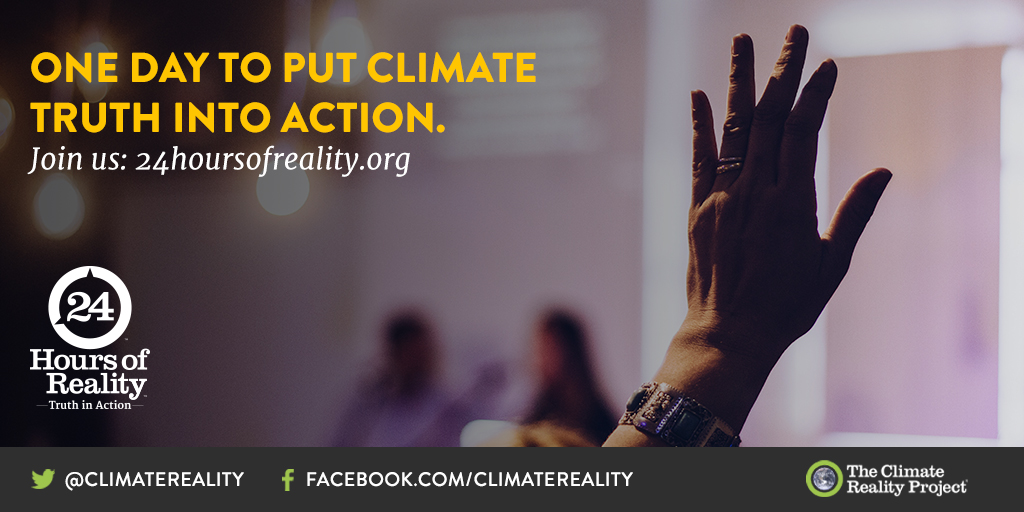 Spread the word on Instagram:

1. The climate crisis that is devastating the Earth is everyone's business, but what can we do about it? Join @ClimateReality for 24 Hours of Reality: Truth in Action – a global climate conversation. To find out more, go to: 24hoursofreality.org #TruthIntoAction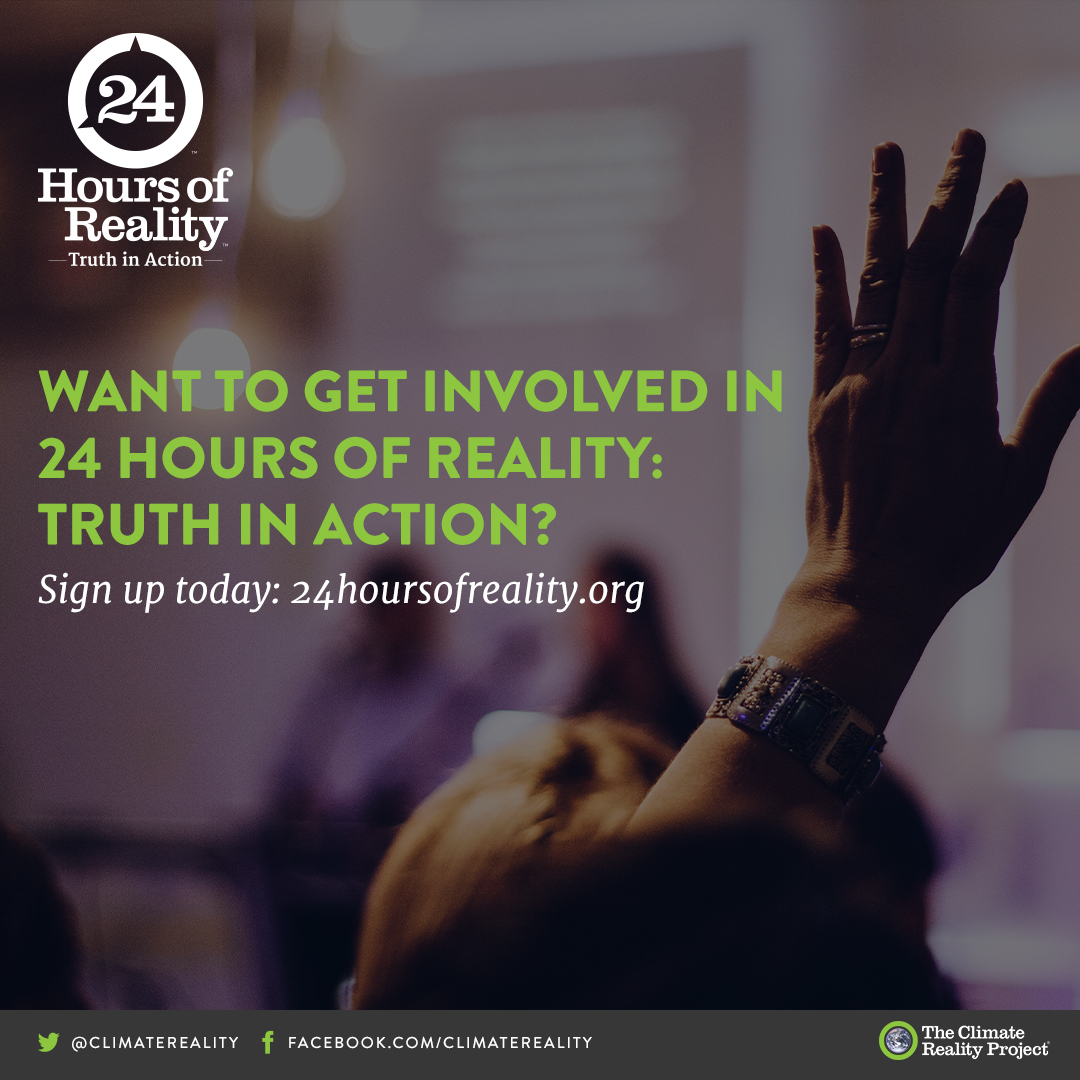 2. On November 20-21, the world is coming together to talk about the climate crisis with @ClimateReality's 24 Hours of Reality: Truth in Action. Find out what the crisis means for you and what you can do about it today: 24hoursofreality.org #TruthIntoAction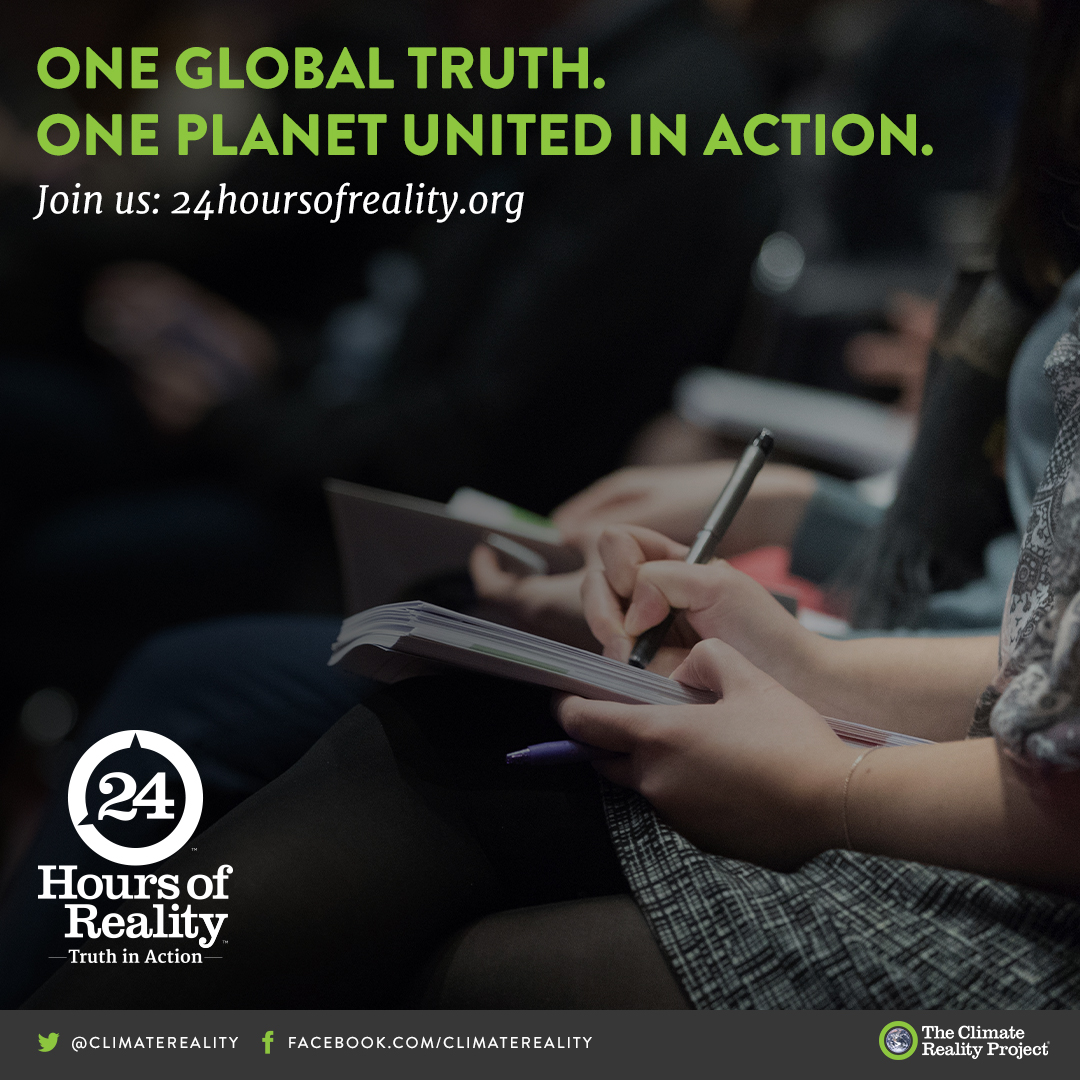 Spread the word on LinkedIn:

1. The climate crisis that is devastating the Earth is everyone's business, but what can we do about it? Join @ClimateReality for 24 Hours of Reality: Truth in Action – a global climate conversation. To find out more, go to: 24hoursofreality.org #TruthIntoAction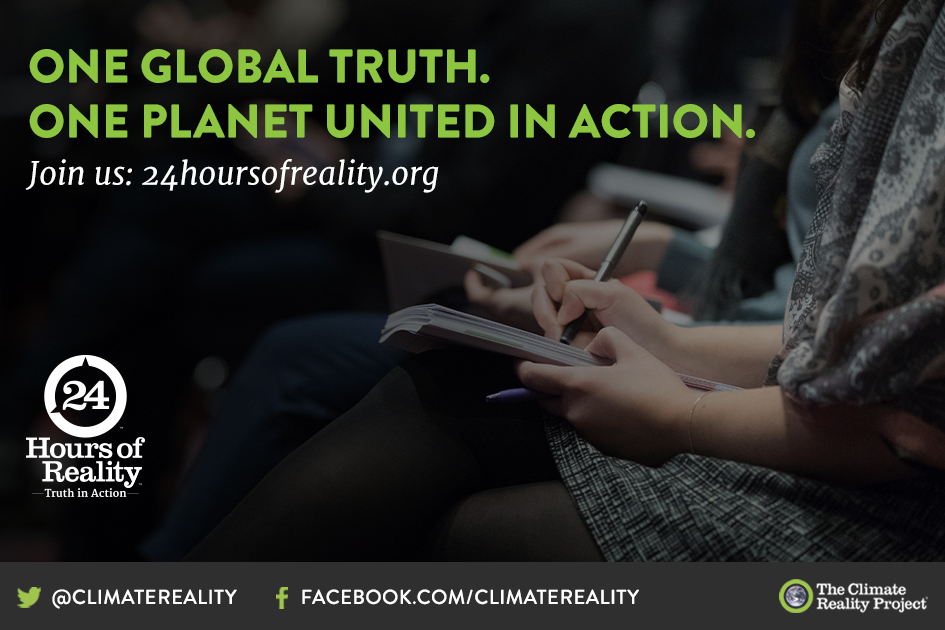 2. On November 20-21, the world is coming together to talk about the climate crisis with @ClimateReality's 24 Hours of Reality: Truth in Action. Find out about what the crisis means for you and what you can do about it today: 24hoursofreality.org #TruthIntoAction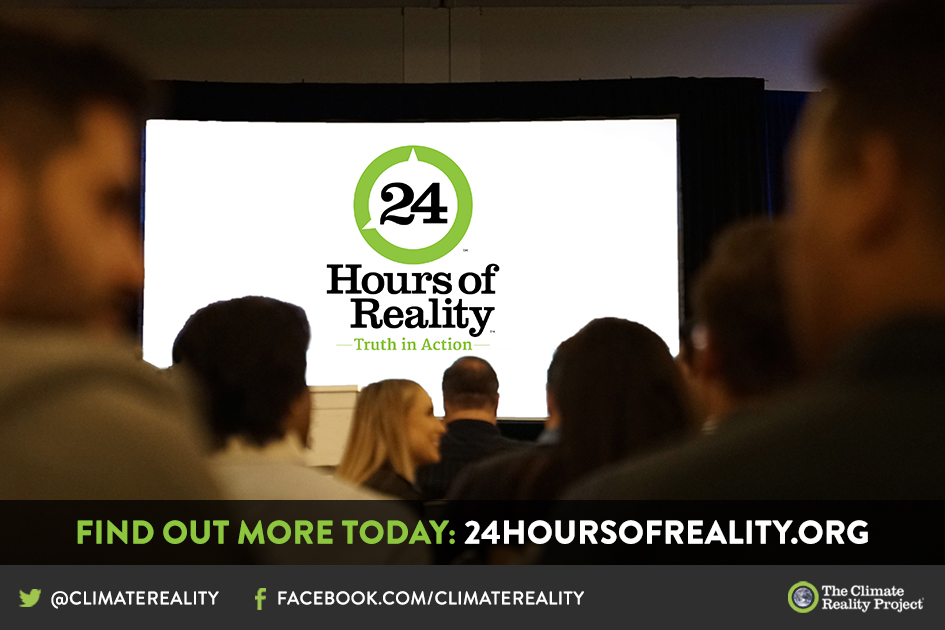 3. On November 20-21, @ClimateReality is hosting 24 Hours of Reality: Truth in Action. It's a chance for friends, neighbors, and colleagues to hear the truth of what's happening to our planet as well as the solutions available to us today. Find out more at 24hoursofreality.org #TruthIntoAction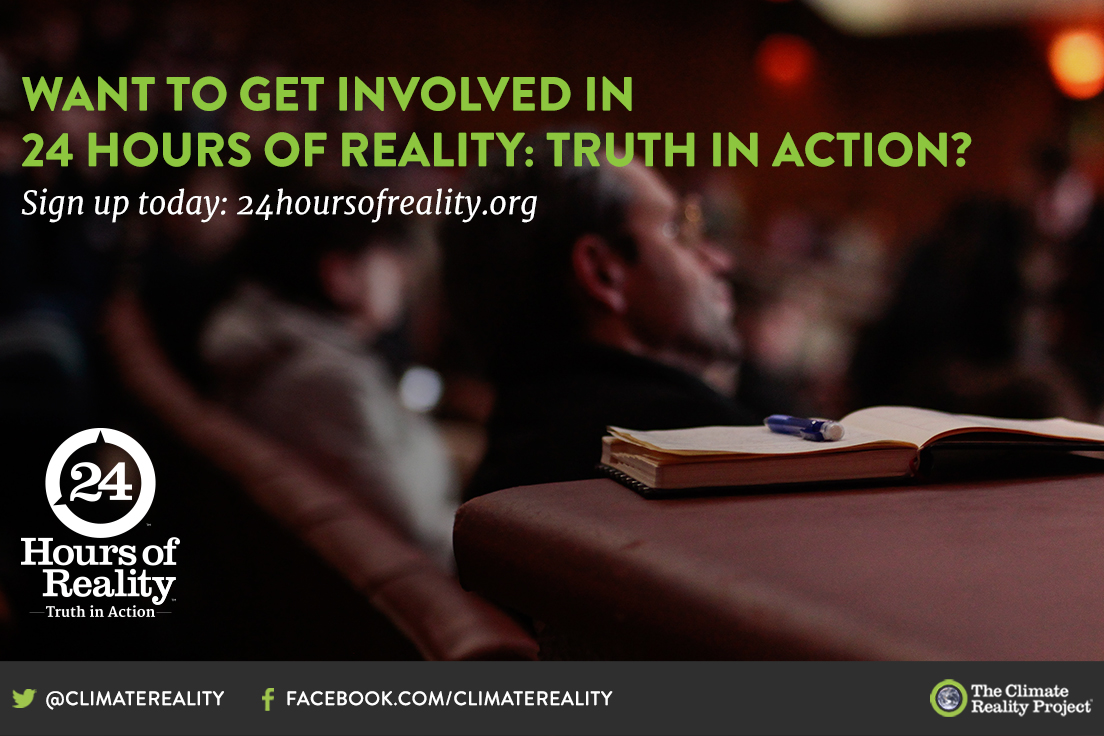 Campaign Websites

24 Hours of Reality: Truth in Action: http://www.24hoursofreality.org/
The Climate Reality Project: https://www.climaterealityproject.org
Campaign Twitter Handles

The Climate Reality Project: @ClimateReality
Former Vice President Al Gore: @AlGore
Campaign Facebook Pages

The Climate Reality Project: https://www.facebook.com/climatereality
Former Vice President Al Gore: https://www.facebook.com/algore