24 Hours of Reality:
Resource kit

Key Details:

Dates: December 3 - 4, 2018 
Live Webcast: https://24HoursofReality.org
Hashtag: #24HoursofReality
What is 24 Hours of Reality: Protect Our Planet, Protect Ourselves?

It might be the greatest threat to public health worldwide. 
Fossil fuels, driving a climate crisis and threatening the health of our families and communities. Extreme weather on the rise. Infectious diseases spreading. Our food and water increasingly at risk. And yet, far too few people are talking about it.
It's time to break the silence. It's time to get our leaders and people everywhere talking about this threat. And for 24 hours straight on December 3—4, we'll do just that.
Hosted by former Vice President Al Gore, the global broadcast event 24 Hours of Reality: Protect Our Planet, Protect Ourselves will sound the alarm on the clear and present danger that fossil fuels and climate change pose to the health of families and communities across the planet.
Just as important, Protect Our Planet, Protect Ourselves will show how we can solve this crisis and create healthier, thriving communities by making a global transition to clean, renewable energy.
We'll share this message of hope with stories of individuals, communities, and businesses in key countries working to break free of fossil fuels and shape a healthier and more prosperous future for us all.
On December 3—4, the world will be calling out for an end to fossil fuels and a healthy tomorrow for our planet. Join us. 
[Share this Video on Facebook] [Share this Video on Twitter]
Ways to Get Involved:
Each week, we'll have new ways to get involved! Be sure to bookmark this page and follow Climate Reality on Facebook and Twitter.
If you want to go the extra mile, you can choose to see posts from Climate Reality first when you log into Facebook. To do this on your desktop:
Click the down arrow on the top right of your Facebook newsfeed.
Click "News Feed Preferences"
Click "prioritize who to see first."
Select Climate Reality. You'll now see posts from us first!
Spread the Word: Facebook
Click the image below to share it to your Facebook account.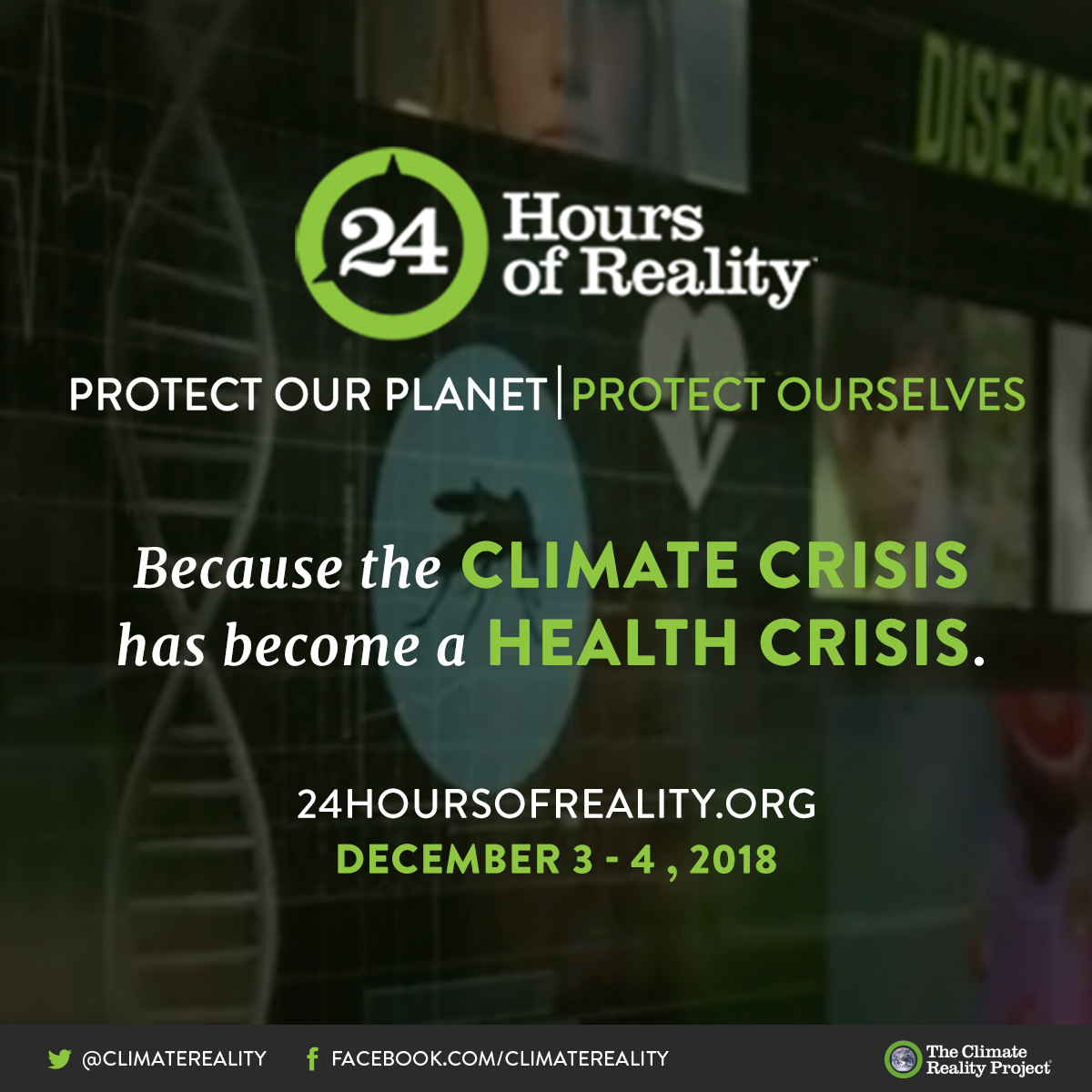 Messages to Post:
What is #24HoursofReality? It's a groundbreaking live broadcast event that focuses the world's attention on the full truth, scope, and scale of the climate crisis. Get updates now: http://bit.ly/2yXVNoG 
From December 3-4, join us as we travel the globe to share real-life stories of people whose health is on the line because of fossil fuel pollution — and show what you can do to take action. http://bit.ly/2yXVNoG #24HoursofReality
Spread the word: Twitter
Click the image below to share it to your Twitter account.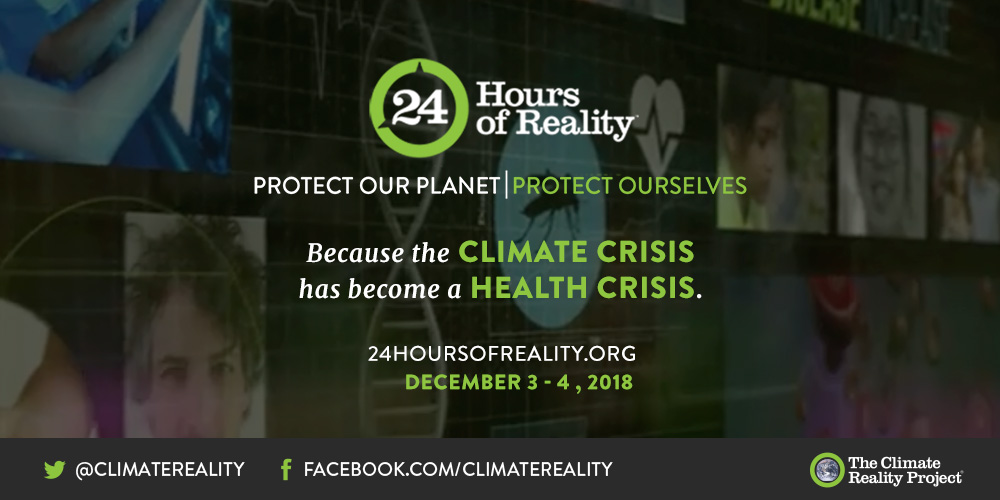 Messages to Post: 
[Tweet this] Every year for one incredible day, @ClimateReality brings together artists, thought leaders, scientists, and activists for the largest global conversation on the climate crisis. Join us on Dec 3 - 4 for #24HoursOfReality: http://bit.ly/2yXUGW2
[Tweet this] When the world comes together, there's no challenge we can't overcome. Tune in to #24HoursofReality and witness global solutions to the greatest challenge of our time. http://bit.ly/2yXUGW2
[Tweet this] This December, I'm joining scientists, activists, and thought leaders for #24HoursofReality: "Protect Our Planet, Protect Ourselves." This year, the show will focus on the links between the climate crisis and our health. Join me: http://bit.ly/2yXUGW2
Attend A WATCH PARTY
Watching 24 Hours of Reality is more fun when you do it with others, and watch parties open the climate conversation to your community. By attending a watch party, you're joining the climate change conversation that's happening in your own backyard. Want to know who's hosting this year's big party? Find your closest watch party here.  
Can't find a watch party in your area? Consider hosting your own!
Host a Watch Party
Throughout the broadcast, we'll be calling on citizens around the world to take action. The more people who participate, the more powerful we'll be. By inviting your friends, family members, neighbors, and colleagues to join you in watching, you can unite people in your own backyard, bring your community into the conversation and have a great time while you do it.
This toolkit includes everything you'll need to organize an event for 24 Hours of Reality.
Campaign and Sponsor Websites
24 Hours of Reality: Be the Voice of Reality: http://www.24hoursofreality.org/
The Climate Reality Project: https://www.climaterealityproject.org
Campaign Twitter Handles
The Climate Reality Project: @ClimateReality
Former Vice President Al Gore: @AlGore
Campaign Facebook Pages
The Climate Reality Project: https://www.facebook.com/climatereality
Former Vice President Al Gore: https://www.facebook.com/algore